Embassy Events 2010
Wish come true: Suprise visit at the chancery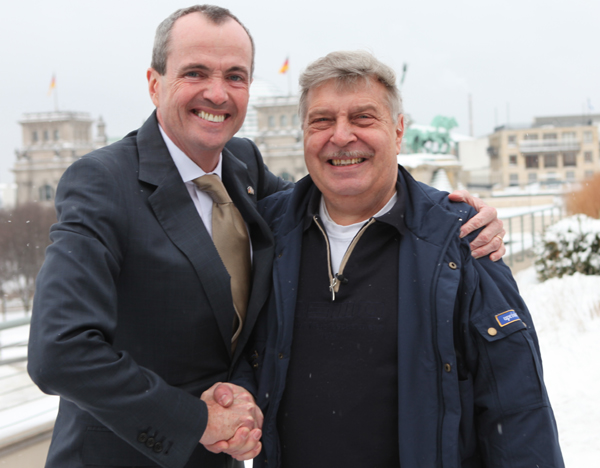 Ambassador Philip D. Murphy met with Reinhard von Bronewski, a former German employee of the U.S. Berlin Brigade, who worked as a translator with U.S. soldiers of the 287th Military Police Company in the 80ies and 90ies and now runs a website devoted to the former U.S. protecting power in Berlin. The Ambassador expressed his appreciation and gratitude for Reinhard von Bronewski's engagement and continued service to keep the memories of the Berlin Brigade alive. Following the meet & greet in the U.S. Embassy Defense Attaché, Colonel James Brown, gave Mr. von Bronewski a tour of the building. The courtesy call on the Ambassador came as a total surprise to Mr. von Bronewski and was part of RBB TV's annual "Wunschzeit" (Time to Make a Wish) program which grants wishes to worthy Berliners during the holiday season.
Ambassador Murphy visits Arndt-Gymnasium in Berlin-Dahlem
December 21, 2010. Ambassador Murphy visited the Arndt-Gymnasium in Dahlem for a talk with approximately 200 students. Following a lively greeting by the school's big band playing America-themed songs, Principal Ute Stäbe-Wegemundt and MdB Karl-Georg Wellmann, who had initiated the visit, welcomed the Ambassador. In his remarks, Murphy encouraged the students to spend some time abroad, stressing its importance for personal development as well as intercultural understanding. He then talked about his personal heroes, including Senator J. William Fulbright, civil rights leader Martin Luther King Jr. and former German Chancellor Willy Brandt. He used these great visionaries and their legacies as examples of the importance of pursuing one's dreams and believing that one person can make a difference. Ambassador Murphy described President Barack Obama as another such visionary, pointing out that despite difficulties in his past, Obama never stopped believing in himself. The Ambassador then pointed out a role model within the students' immediate environment: teacher Susanne Grautmann who won first place in a project competition organized by the U.S. Embassy as part of its Green Ambassadors Program. The program tasked former participants in U.S. Government-sponsored exchange programs with developing small-scale projects promoting climate protection. Ms. Grautmann won for her "One car less" stickers, which she designed, printed, and handed out to cyclists in her neighborhood. After congratulating Ms. Grautmann, Ambassador Murphy opened the floor for questions from the students. The students were well informed and challenged the Ambassador with questions ranging from the American economy, to the conflict between North and South Korea, to Wikileaks. After an enthusiastic performance by the 5th and 6th grade choir, The Hot Chocolates, Ambassador Murphy visited a sixth-grade class and read a passage from President Barack Obama's biography "Dreams from my Father" to the students.
Ambassador Murphy Addresses GE Reception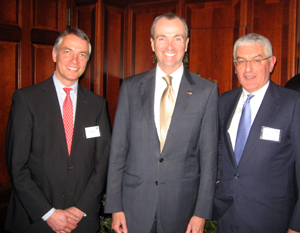 December 15. Ambassador Murphy addressed a reception at the Adlon Hotel in honor of GE's new government relations office in Berlin. The hosts included President and CEO of GE International, Nani Beccani-Falco, and Georg Knoth, CEO of GE's Germany, Austria and Switzerland division, and the guests included GE contacts from government, the private sector and the representatives of German states in Berlin. The Ambassador praised GE's history of technical innovation, international engagement and role as one of the world's leading, diversified industrial producers--a history that began with a partnership with Emil Rathenau in electrifying the city of Berlin in 1883, and has continued to this day. "Over the years, GE has indeed brought many, many good things to life for people around the world. We need GE's imagination to go on working."
Lecture Discusses EU & US Approaches to Biotech Crops (GMOs)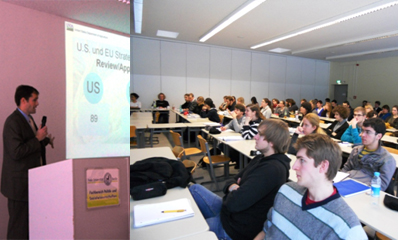 On Tuesday, December 14, Agricultural Counselor Paul Spencer gave a lecture on agricultural biotechnology at the Berlin's prestigious Freie Universitat Environmental Policy Research Centre. About 100 students in a comparative policies class learned about why farmers around the world are increasingly choosing to use biotech crops. Spencer also discussed U.S. policies that have supported the safe development of this strategic technology. The lecture included a spirited discussion comparing U.S. and EU approaches to regulating agricultural biotechnology.
December 1: World AIDS Day
Mehr als 14 Millionen Menschen wurden getestet und beraten – dank PEPFAR, sagt Botschafter Philip Murphy (
video)