Archive of Selected Past Events
Roundtable discusses sustainability of agriculture, forestry and fisheries at the U.S. Embassy
An alliance of U.S. agriculture, fishery and forestry organizations met with industry leaders of the food supply chain in Germany on October 30, 2014. The roundtable discussion was held at the U.S. Embassy in Berlin to exchange information and establish ongoing dialogue about production and conservation methods practiced along the food value chains and the forestry sectors in the U.S. and the EU. The dialogue aims to underscore the diversity of approaches to reach the common goal of sustainability against the backdrop of growing food and nutrition demands in the world.
Kelly Stange, Agricultural Attaché at the U.S. Embassy in Berlin welcomed 25 participants to the roundtable and highlighted that sustainability has become an integral aspect of doing business across global agricultural and food supply chains. She made clear that the exchange of information at the roundtable between German industry representatives and U.S. producers was an extremely valuable forum to learn about each country's approaches to sustainability. The dialogue started with a presentation by Amy Philpott and Benno van der Laan, representing the alliance of U.S. organizations, who explained that a survey of EU stakeholders showed there was a deep disconnect between European perceptions and U.S. agricultural production practices. Benno van der Laan stated that the United States is generally by stakeholders in the EU as less sustainable than the EU and that U.S. agriculture doesn't get much credit in the EU for its conservation systems and laws.
Ron Moore, soybean grower from Illinois, Chad Frahm, U.S. Dairy Export Council, and Nelly Masson, Alaska Seafood and Food Export, showed how U.S. producers conserve land, water, and reduce greenhouse gas emissions in the United States. This was followed by presentations on sustainability in Germany and the EU by representatives of the German agricultural industry. Willi Kampmann explained the perspective of the German Farmers Union, followed by Dr. Peter Breckling of the German Fisheries Association, Dr. Fridolin Brand of Südzucker, and Dr. Martijn Gipmans of BASF Plant Science.
The roundtable showed the importance of discussing sustainability as a joint commitment between producer and supplier and the common values and goals on both sides of the Atlantic. Sustainability has become an important requirement of doing business, especially in the food sector. In her closing remarks Kelly Stange highlighted that today's roundtable and next year's World Expo in Milan are good examples for the growing importance to discuss agriculture. The Milan World Expo 2015 has the aim to promote a global dialogue about the future of our food system. The theme of the American Pavilion will be "American Food 2.0: United to Feed the Planet" and it will focus on innovative solutions to the challenges of food security, sustainability, nutrition, and health.
October 14-23: Josh Elder in Germany
Josh Elder, an award-winning graphic novelist, founder of the nonprofit literacy organization Reading With Pictures, and "comics ambassador" for the U.S. Department of State, is coming to Germany. He will conduct workshops and discuss how comics and graphic novels can enhance student engagement.
Fall of the Wall Anniversary: Secretary Kerry in Berlin
"It was the difference between hope and despair, between light and darkness." That's how Secretary John Kerry recounted a memorable bike ride from West Berlin, through the checkpoints into East Berlin and back, while visiting the Berlin Wall Memorial. Secretary Kerry had been living in West Berlin as a boy when his father served in the divided city as a Foreign Service officer. - See more at: http://blogs.state.gov/stories/2014/10/22/berlin-wall-difference-between-hope-and-despair
October 8-9: Assistant Secretary Nuland visited Berlin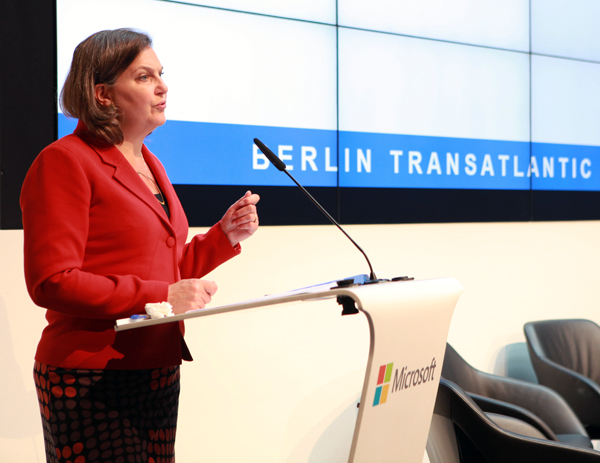 Victoria Nuland, the Assistant Secretary of State for Europe and Eurasian Affairs, visited Berlin on October 8-9. During her visit, Nuland met with German government counterparts and met for consultations with the German-American Parliamentary Group of the Bundestag. She took part in an in-depth discussion with a group of young leaders on the transatlantic relationship. The Assistant Secretary also gave the opening speech at the Aspen Conference where participants there were marking Aspen's 40th anniversary.
October 6: 30 US Distillers Hold Tasting with Ambassador John Emerson at US Embassy in Berlin
American distillers showcased their fine spirits products at a media briefing and American spirits tasting Oct. 6 hosted by U.S. Ambassador John Emerson at the U.S. Embassy in Berlin. At the event media previewed products from nearly 30 producers, including 24 small distillers, many of whom featured new brands for the first time in the German market. This wide variety of new distilled spirits products reflects the rapid rise in small distilling in the United States, which has grown ten-fold over the past decade. The tasting also included a pairing with American-style cuisine, reflecting the growing trend toward pairing food with cocktails in the United States.
During the speaking program, Distilled Spirits Council Senior Vice President Frank Coleman discussed the unique characteristics of American whiskeys and other spirits, and traced their roots back to their German and European origins. "Germany presents a great opportunity for U.S. distillers, large and small," said Coleman. "It is already the fourth largest market for our exports and is the fastest growing in terms of value. But, it is also a gateway market and opinion leader in terms of taste and style for many of the emerging markets to the East, and therein lie the seeds of future growth."
Germany is the fourth largest market for U.S. distilled spirits exports at $140.1 million in 2013 suppliers' sales, up 114 percent since 2002. In 2013, it was the top growth market by value, increasing $19.6 million in sales.
The participating distillers included: Brown-Forman (Jack Daniel's, Woodford Reserve), Beam (Maker's Mark, Jim Beam), Diageo (Bulleit Bourbon) Campari USA (Wild Turkey), and Sidney Frank Importing (American Harvest), as well as many small distillers from across the U.S., including Agave Loco (IL), Bloomery Plantation (WV), Catoctin Creek Distillery (VA), Chatham Imports (KY), Cleveland Whiskey (OH), Corsair Distillery (TN), Deaths Door Distillery (WI), Few Spirits (IL), Georgetown Trading Co. (DC), Greenbar Distillery (CA), High Ridge Spirits (AL), House Spirits, (OR), Koval Distillery (IL), Middle West Spirits (OH), Mountain Laurel Spirits (PA), Osocalis Distillery (CA), Philadelphia Distilling (PA), Prichard's Distillery (TN), Saxtons River Distilling, (VT), Smooth Ambler Spirits (WV), Top of the Hill Distillery (NC), Vermont Spirits (VT), Vodquila, (NY), and WhistlePig (VT).
"The U.S. distilled spirits industry is undergoing a huge renaissance, both in terms of the sheer numbers of producers and in the innovative products they are bringing to the marketplace. With one leg firmly grounded in the nation's storied distilling heritage and the other leg leading the charge into the future, we are on the edge of an historic distilling revolution of enormous diversity and quality," Coleman concluded.
October 6: California Walnuts Surprise the Audience
In the unique ambiance of the U.S. Embassy's Quadriga Room, Javier de las Muelas presented the new California Walnuts Cocktail Collection on Monday. The prominent cocktail master and his Dry Martini team transformed crunchy walnuts into eight liquid essences. This resulted in an intriguing collection of cocktails featuring the unmistakable flavor of California walnuts. Ambassador John B. Emerson, as well as representatives from German spirits industry, importers, top bartenders and press, were the first to experience "liquid walnuts" from California.
September 22: Josuha Cohen at the English Theatre Berlin
Joshua Cohen, a visiting fellow at the American Academy this past September, read from his latest book Four Messages at the English Theatre Berlin as part of the U.S. Embassy Literature Series. Cohen's book, a collection of short stories, raises issues such as internet privacy and how younger generations often underestimate the potentially adverse effects of their online presence. Well known talk show host and journalist Jörg Thadeusz moderated the reading and was the perfect counterpart to Joshua Cohen.
September 16: Ambassador Robert E. Hunter on NATO and Ukraine
Former U.S. Ambassador to NATO (1993-98) Robert E. Hunter addressed German journalists at the U.S. Embassy, Berlin. Ambassador Hunter, who is a Senior Fellow at the Center for Transatlantic Relations, Johns Hopkins University (SAIS) in Washington, D.C., firmly declared Germany to be our "central partner" in transatlantic relations. He explained Germany's importance in addressing a range of common challenges, including ISIL, Russia and Ukraine, countering extremism in the Middle East and closer NATO-EU integration. He outlined that the NATO Summit in Wales sent a clear signal that the U.S. is still present in Europe and will honor its Article V commitment. He also explained how President Obama clarified the foreign policy "pivot to Asia" as a basketball metaphor for the U.S. planting itself firmly in Europe with the pivot foot, while turning to engage partners in the East from a solid foundation. Ambassador Hunter said Germany is now our "pivot" as the biggest economy in Europe, located furthest to the East, and having the greatest economic ties to the Eastern European states. He argued that Germany and the U.S. should be at the center of addressing the security challenges of our time. Ambassador Hunter said he has long urged much closer cooperation between NATO and the EU. He also emphasized that NATO should address security overall, including economic development, and not just military cooperation.
September 12-14: Memorial Events MLK in Berlin
Ambassador John B. Emerson participated in a number of events commemorating the 50th anniversary of the visit of the legendary American civil rights activist Dr. Martin Luther King, Jr. to both sides of the then-divided city of Berlin in 1964. On September 13, Ambassador Emerson delivered remarks at a commemorative event at the Berlin Town Hall, at the invitation of Berlin Mayor and Senator of the Interior and Sports, Frank Henkel. On September 14, Ambassador Emerson attended a public service at the Marienkirche together with President Gauck, Bishop Dröge, Mayor Wowereit and other invited dignitaries, where he recited a verse from the Bible. The Marienkirche was one of the two churches at which Dr. Martin Luther King, Jr. held a sermon during his visit in 1964.
The U.S. Embassy Berlin also supported a youth event commemorating the historic visit of Dr. King to Berlin at the Gedenkstätte Berliner Mauer on September 12. Dr. Charles Steele, Jr. President Emeritius and CEO of the Southern Christian Leadership Conference (SCLC), a civil rights organization founded by Dr. King, and students from the Ernst-Reuter-Oberschule and the Rosa-Luxemburg-Schule came together for a panel discussion on the legacy of Dr. King and what it means for today's society. The two schools have been working together for the past year in developing the "King Code," a multi-faceted project tracing the steps of Dr. Martin Luther King, Jr.'s visit to Berlin. Students from the John-F.-Kennedy School performed several songs inspired by the civil rights movement in the U.S. in the 1960s.
September 12: A Taste of California
Ambassador John B. Emerson and Mrs. Kimberly M. Emerson hosted an evening of California cuisine and wine together with about 200 guests at their residence in Dahlem. The event featured Michelin star Chef Steve Litke of Farmhouse Inn restaurant in Sonoma County, along with live music by the Pearls of Berlin. This event offered a great opportunity to taste a flavorful variety of Californian and other American cuisine. The extensive menu offered dishes prepared with high quality U.S. ingredients like Californian walnuts, raisins, cranberries and prunes, Alaskan seafood, and various preparations U.S. meat. A selection of California's best wines were presented throughout the evening.
September 5: Going Green kick-off event
The U.S. Embassy is partnering once again with Leuphana University Lüneburg, LIFE e.V./eXplorarium Berlin, and the Friedrich-Ebert-Stiftung on a new and innovative project: Going Green – Education for Sustainability.
August 21: Ambassador Emerson meets Child Survivors of the Holocaust and Descendants
On August 21, Ambassador Emerson met a group of Executive Board members of the World Federation of Jewish Child Survivors of the Holocaust and Descendants. The Ambassador had an opportunity to hear stories first-hand from survivors about being pursued and persecuted as children, making lives for themselves after World War II, and how these experiences affected them and their families. The Ambassador also discussed with the group Mission Germany's longstanding consultations with German officials on justice for victims of human rights atrocities, not only during the Nazi era, but also since then in other parts of the world.
For the first time, the World Federation is hosting its conference of child survivors of the Holocaust and their families in Germany. Organizers expect over 350 survivors and their families from countries around the world, including the United States, to gather in Berlin and reaffirm their bonds as a community and discuss topics such as coming to terms with the past, telling their stories, and looking at the future of Holocaust education and commemoration. The World Federation was created in the 1980s for child survivors and their families to discuss shared experiences in light of the added stigma and special issues and needs of child survivors – those who fled, were hidden, and usually grew up with adult family members. The World Federation has since united hundreds of child survivors, providing them with opportunities to connect with others who can understand the suffering of their shared past.