Archive of Selected Past Events
Ambassador and Mrs. Emerson ride their bikes through Wedding with Mutlu, MP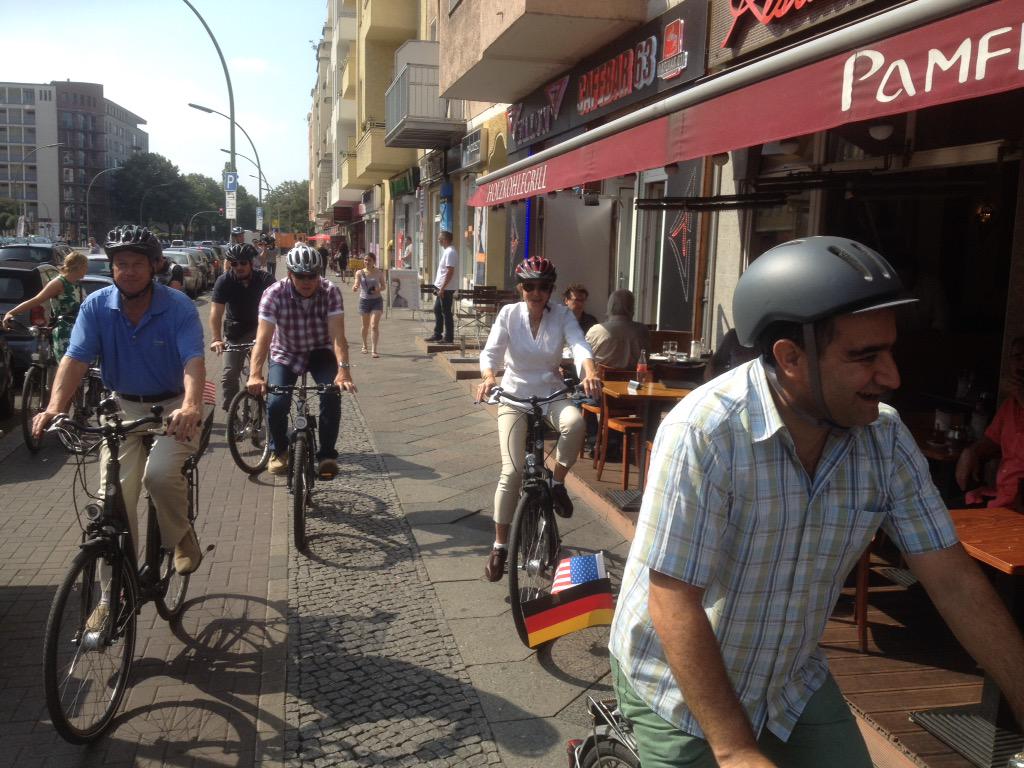 Ambassador Emerson and his wife explored the district of Wedding on bicycle upon an invitation of the Member of Parliament Özcan Mutlu. With his visit to Wedding, Ambassador Emerson continues his tours through culturally and ethnically diverse districts of Berlin. Mutlu MP: "I am very pleased that Ambassador Emerson and his wife have accepted my invitation to visit my diverse constituency." Ambassador Emerson and MoP Mutlu want to emphasize the bike as an eco-friendly, alternate way of transportation.
The tour with MoP Mutlu started at the Bundestag. The bike path along the former course of the wall served as a reminder of the past of Berlin. The first stop of the tour, however, allowed a glance into the future: the Bayer HealthCare CoLaborator, an incubator for bio-tech companies. On the tour through the laboratory Ambassador Emerson highlighted the economic importance of startups in Germany and the United States.
The tour proceeded to a store of the Turkish supermarket chain Eurogida. Both in the US and Germany, immigrants as entrepreneurs contribute immensely to the economy. According to a study immigrants generated 2.2 million jobs in Germany and offer a growing number of training positions.
MoP Mutlu, Ambassador and Mrs. Emersons stopped for lunch at the Turkish restaurant Pamfylia and then continued the tour to Himmelbeet, an intercultural community garden. "Michelle Obama and the President would love this garden", commented Ambassador Emerson. "As you may know, Michelle Obama has the most famous garden in Washington, D.C. She is a big supporter of urban gardening projects." The Yunus Emre Moschee marked the last stop of the four-hour long trip, where Ambassador Emerson and MoP Mutlu held a discussion with members of the mosque community.
July 9: Going Green project recognized in "Land of Ideas" competition
The "Germany - Land of Ideas" association awarded to our project Going Green – Education for Sustainability the prize for "creative minds who confront the potential of the digital world with courage and curiosity and encourage innovation that paves the way for these developments." The award ceremony took place at the U.S. Embassy in Berlin.
Ambassador Emerson who greeted the guests via video stressed: "No country can address the threat of climate change alone. It is a global challenge, and we're not going to get very far if we keep our efforts contained within our borders. It is also up to each and every one of us as individuals to make a difference. Going Green has done that."
July 6: Chef Flanagan and BWK Cooking students
A thoroughly multicultural encounter: Chef Chip Flanagan was a guest at the Kreuzberg Training Institute (BWK). The culinary workshop was supported by the U.S. State Department to present the different traditions and styles of American cooking. Chef Flanagan, along with seven other students from BWK, prepared a typical dish from his home in New Orleans, Louisiana, called "Jambalaya." This rice dish combines influences from the Cajun and Creole cuisine of New Orleans, both of which have French roots. The rice is combined with vegetables, meat, fish and seafood and stewed together with onions, bell peppers, and celery. While the Jambalaya was stewing, Chef Flanagan answered several questions about New Orleans and Creole and Cajun cooking, including questions about regional ingredients. Finally the group enjoyed the dish with the manager of BWK, Nihat Sorgeç and discussed the curriculum at BWK, as well as life in Louisiana.
July 03: Independence Day Celebrations
This year, July 04 falls on a Saturday and will be officially observed on Friday July 03, 2015.
The U.S. Embassy in Berlin celebrates the Indepence Day every year with a diplomatic event for invited guests only. Unfortunately not everyone can attend, but for those who cannot participate in person we have put together this Storify. Also check out TV Berlin YouTube
Other celebrations
Because we have a lively U.S. community in Berlin you will find lots of opportunities to celebrate this day – please check the local press and relevant web sites like www.exberliner.com or www.toytowngermany.com/wiki/Expats_in_Berlin
Teju Cole on tour
Every Day Is For The Thief
Teju Cole
Fifteen years is a long time to be away from home. It feels longer still because I left under a cloud.

A young Nigerian living in New York City goes home to Lagos for a short visit, finding a city both familiar and strange. In a city dense with story, the unnamed narrator moves through a mosaic of life, hoping to find inspiration for his own. He witnesses the "yahoo yahoo" diligently perpetrating email frauds from an Internet café, longs after a mysterious woman reading on a public bus who disembarks and disappears into a bookless crowd, and recalls the tragic fate of an eleven-year-old boy accused of stealing at a local market.

Along the way, the man reconnects with old friends, a former girlfriend, and extended family, taps into the energies of Lagos life—creative, malevolent, ambiguous—and slowly begins to reconcile the profound changes that have taken place in his country and the truth about himself.

In spare, precise prose that sees humanity everywhere, interwoven with original photos by the author, Every Day Is for the Thief—originally published in Nigeria in 2007—is a wholly original work of fiction. This revised and updated edition is the first version of this unique book to be made available outside Africa. You've never read a book like Every Day Is for the Thief because no one writes like Teju Cole.
Teju Cole was born in the United States in 1975 and raised in Nigeria. He is the author of Every Day Is for the Thief and Open City, which won the PEN/Hemingway Award, the Internationaler Literaturpreis, the Rosenthal Family Foundation Award for Fiction from the American Academy of Arts and Letters, and the New York City Book Award, and was nominated for the National Book Critics Circle Award. His photography has been exhibited in India and the United States. He is Distinguished Writer in Residence at Bard College.
June 27: Christopher Street Day parade
An annual European LGBT celebration and demonstration held in various cities across Europe for the rights of LGBT people, and against discrimination and exclusion.
June 25: Russian Disinformation in the 21st Century
"The Kremlin's disinformation campaign goes far beyond controlling its own media. It is aimed at nothing less than presenting a parallel version of reality and disseminating it as if it were news. The Kremlin's goal is to make people question the value of media at all." – from Amb. Emerson's speech
June 16-19: Molly Antopol reading tour
Molly Antopol und "Die Unamerikanischen" Deutsche Stimme: Antje Traue Moderation: Shelly Kupferberg | Zur Veranstaltungs-Website
Berlin
autorenbuchhandlung,
Else-Ury-Bogen 599-600,
10623 Berlin
Dienstag, 16. Juni 2015,
20:00 Uhr| Ihr Feedback via Facebook
Jun 17
Molly Antopol und "Die Unamerikanischen" |

Zur Veranstaltungs-Website


Freiburg
Carl-Schurz-Haus,
Eisenbahnstr.62,
79098 Freiburg
Mittwoch, 17. Juni 2015,
20:00 Uhr


https://de-de.facebook.com/events/899508113433738/?ref=5

Jun 18
Molly Antopol stellt vor: "Die Unamerikanischen" Moderation: Jakob Köllhofer deutsche Stimme: Jutta Wagner |

Zur Veranstaltungs-Website


Heidelberg
Deutsch-Amerikanischen Institut,
Sophienstr. 12,
69115 Heidelberg
Donnerstag, 18. Juni 2015,
20:00 Uhr
http://dai-heidelberg.de/de/veranstaltungen/die-unamerikanischen-10876/
München
Jun 19
Amerikahaus München
Karolinenplatz 3, 80333 München
Freitag, 19. Juni
19 Uhr


https://de-de.facebook.com/events/645932018883821/?ref=3
June 11-12: Showcasing the American tradition of "a capella" for German youth audiences
On June 11, The Radcliffe Pitches, a 12-woman a Capella singing group from Harvard University, performed American music at the Congress-Bundestag Youth Exchange end of year event at the US Embassy in front of 400 guests. They sang several songs including the national anthem. Their presentation visibly won the audience including several German members of Parliament and the Ambassador who responded with loud cheers and rounds of applause. Photos: https://www.flickr.com/photos/usbotschaftberlin/sets/72157653999311528
National Anthem: Video: https://instagram.com/p/3yo0p8gjEE/
On June 12, the U.S. Embassy organized two youth events for The Radcliffe Pitches. In the morning, they opened the Run4Peace the largest charity run by Berlin youth. This year, 2015, marked the 10th anniversary of the run. Nearly 3,800 students from 37 schools in Berlin participated.
In the afternoon, the Radcliffe Pitches were involved in a musical workshop at the Evangelische Schule Berlin Zentrum, organized by a music and English language teacher who is also a Department of State program alumnus. The workshop included a joint rehearsal of the Radcliffe Pitches with the school choir and a discussion with members of school choir about studying in the US. The Radcliffe Pitches were able to get a true insight to the life in Germany because the school arranged home stays for eight of the 12 members of the Radcliffe Pitches.
June 12: CBYX in the Chancellery
On June 12, 350 American participants were guests of Chancellor Merkel at the Federal Chancellery. The Americans participated in the Congress-Bundestag Youth Exchange Program (CBYX) and spent a year in Germany. Chancellor Merkel was visibly delighted to greet young people. The audience engaged with great enthusiasm when James Roldan, one of the participants, started singing, "I am such a happy individual in deutsche Land." At the end of the song, Chancellor Merkel, Members of the Parliament and the audience responded with loud cheers and enthusiastically clapped their hands. In the morning, the American CBYX participants were welcomed by Bundestag President Prof. Dr. Norbert Lammert (CDU/CSU), several Members of Parliament and Ambassador John B. Emerson at the Bundestag. "This program is one of the best ideas that the Bundestag ever had. Links between Germany and the United States of America should stay strong - with families, friends and personal relationships," Lammert said. Ambassador Emerson pointed out that as the American Ambassador to Germany, especially during events that have challenged the relationship, he can attest to the importance of understanding the perspective of others. "And in an era when many young people not only question the value of our relationship, but even our shared values, I have also seen how important it is that young Germans and Americans meet and get to know each other; and that they understand each other's backgrounds, and can see that they indeed share the same values of freedom, rule of law, and democracy." On June 11, the American participants, Members of Parliament, representatives of the exchange organizations and the Parliament's administration were invited to the US Embassy for a reception hosted by Ambassador Emerson. The Radcliffe Pitches, an all-female A Capella Choir founded in 1975, from Harvard University, performed several songs and the national anthem. The audience was asked to pick their favorite weird word through applause from words submitted beforehand: Plauze (belly), Purzelbaum (somersault), Flexitarier (occasional meat-eating vegetarians), Dudelsack (bagpipe), Ohrwurm (catchy tune), finally "bagpipe" was chosen as the strangest German word, which Americans have encountered in their year in Germany. We wish all American CBYX participants of the class 2014/2015 the very best for their future! Come back soon!
June 11: CBYX/PPP Berlin Day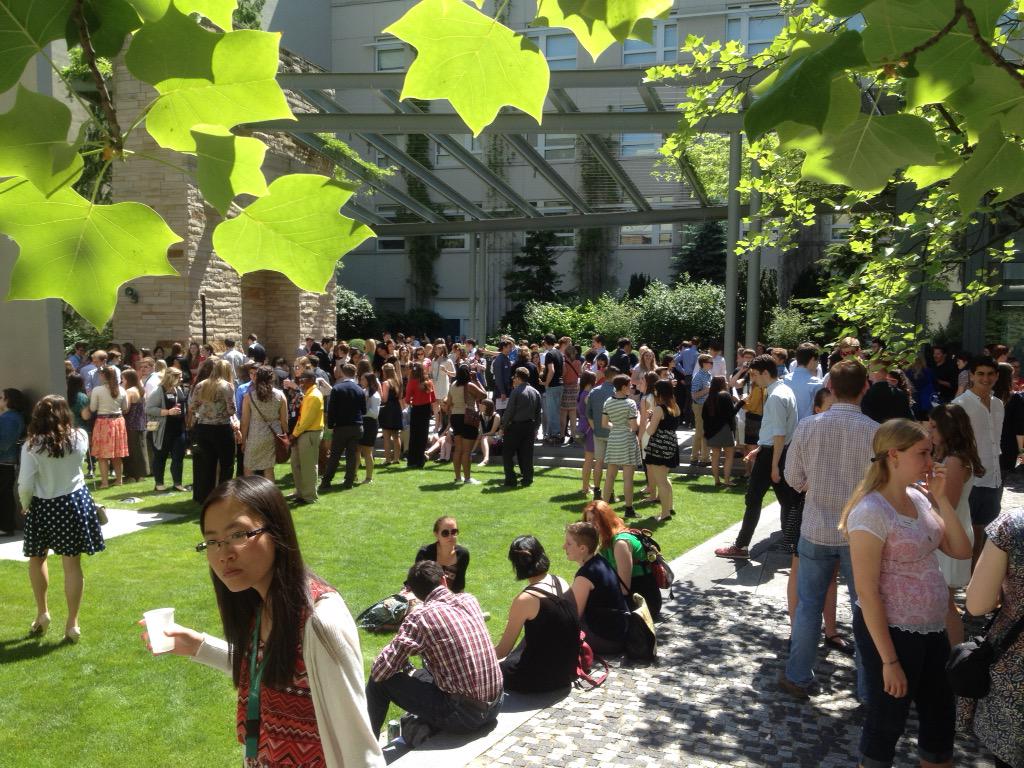 usbotschaft 1:35pm via Twitter for iPhone
Willkommen beim #BerlinDay @YFU_USA @giz_gmbh @nacelayp @CBYXPPP @AFSdeutschland @CulturalVistas
June 10: Atlantic Council's "Next Generation"
What happens when 12 young Americans and Germans with different backgrounds, perspectives, and experiences come together to discuss the US-German relationship? -
They identify challenges and offer solutions. They formulate a strategy and foster a debate from a "next generation" perspective. They give a new voice to a next generation of Americans and Germans between the ages of twenty-five and thirty-five.
On June 10, three of the 12 "Next Generation" Fellows came to the Embassy to introduce The Atlantic Council's "Next Generation" project and to outline steps toward the New Generation prism. Are you interested in their eighteen recommendations to strengthen the US-German relationship? Please see The Next Generation report "Through a New Prism: A Next Generation Strategy for the US-German Relationship."
June 7 and 8: G7 summit
The G7 Summit 2015 in Schloss Elmau will focus on the global economy as well as on key issues regarding foreign, security and development policy.
---

June 08, 2015

---

June 08, 2015