Archive of Selected Past Events
September 29: Tom Leveen
As part of the U.S. Embassy Literature Series TOM LEVEEN read from his young adult novel Random (Ich hätte es wissen sollen, Hanser Verlag)
Moderator: Jeremy Fowler, U.S. Embassy
Who's the real victim here? This tense and gripping exploration of cyberbullying and teen suicide is perfect for fans of Before I Fall and Thirteen Reasons Why.

Late at night Tori receives a random phone call. It's a wrong number. But the caller seems to want to talk, so she stays on the line.
He asks for a single thing—one reason not to kill himself.
The request plunges her into confusion. Because if this random caller actually does what he plans, he'll be the second person connected to Tori to take his own life. And the first just might land her in jail. After her Facebook page became Exhibit A in a tragic national news story about cyberbullying, Tori can't help but suspect the caller is a fraud. But what if he's not? Her words alone may hold the power of life or death.
With the clock ticking, Tori has little time to save a stranger—and maybe redeem herself—leading to a startling conclusion that changes everything.
Tom Leveen is the author of Random, Sick, manicpixiedreamgirl, Party, and Zero (a YALSA Best Book of 2013). A frequent speaker at schools and conferences, Tom was previously the artistic director and cofounder of an all-ages, nonprofit visual and performing venue in Scottsdale, Arizona. He is an Arizona native, where he lives with his wife and young son.
In cooperation with English Theatre Berlin | International Performing Arts Center, Hanser Verlag München and Thalia Buchhandlungen
Video forthcoming – stay tuned!
September 24–27: U.S. Embassy Teacher Academy 2015
From September 24 to 27, 2015, we will host the annual Teacher Academy in cooperation with the Amerikazentrum Hamburg.
Conference venue: Gustav-Stresemann-Institut in Bonn (www.gsi-bonn.de)
Topic: "Immigration and Integration in the USA: A Current Debate."
We will discuss immigration reform and best-practices in integrating young adult immigrants and refugees into the school system. We will also risk an early assessment of the potential U.S. presidential candidates and present our new "'Teach About US' – Going Green" campaign. The conference language will be English.
Registration is closed -- here is the full program
September 23: Mercator fellows roundtable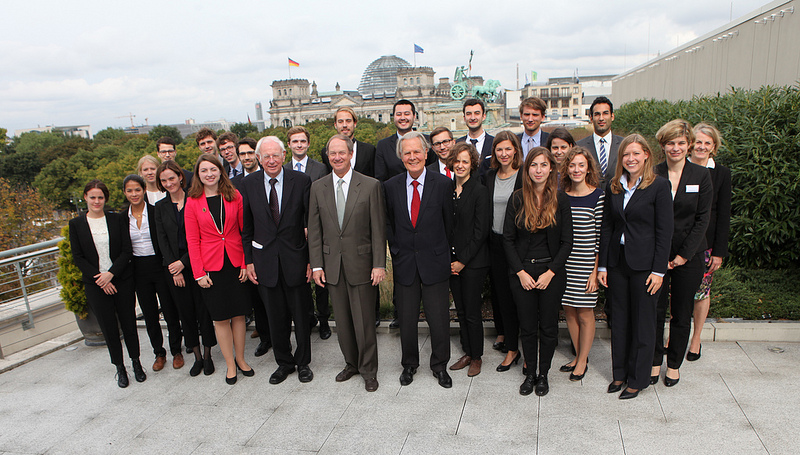 Ambassador John B. Emerson hosted a roundtable with fellows from the Mercator College on International Affairs. Ambassador Emerson and the fellows engaged in a candid discussion of some of the current issues faced by the United States and the European Union and the importance of a strong transatlantic relationship.
The Mercator Fellowship on International Affairs promotes 20 outstanding German and four outstanding Swiss university graduates and young professionals from all fields who aspire to positions of responsibility in international organizations. The Mercator Fellowship is a project jointly run by the Studienstiftung des deutschen Volkes (German National Academic Foundation) and the Mercator Foundation in cooperation with the Federal Foreign Office. The Fellowship's dean is Prof. Dr. Klaus Scharioth, former State Secretary in the German Federal Foreign Office and ambassador to Washington, and the vice dean is Dr. Jenö Staehelin, former Swiss ambassador to the United Nations in New York.
September 22: Innovation for a sustainable future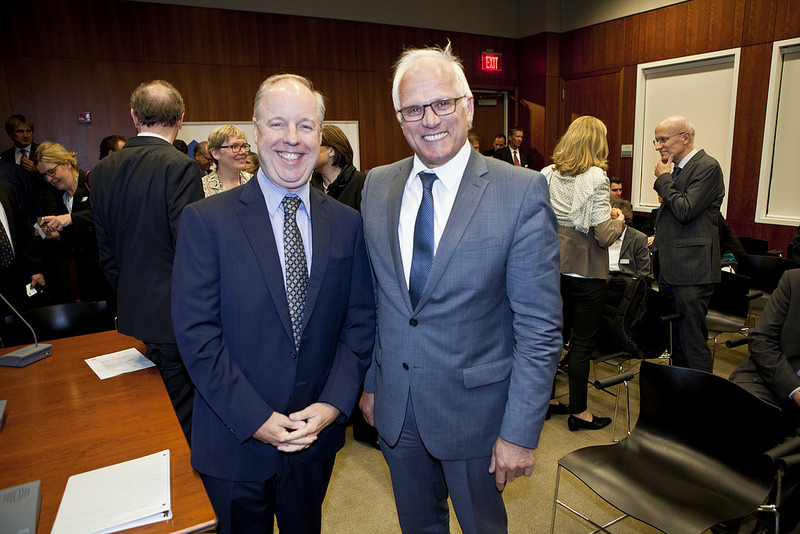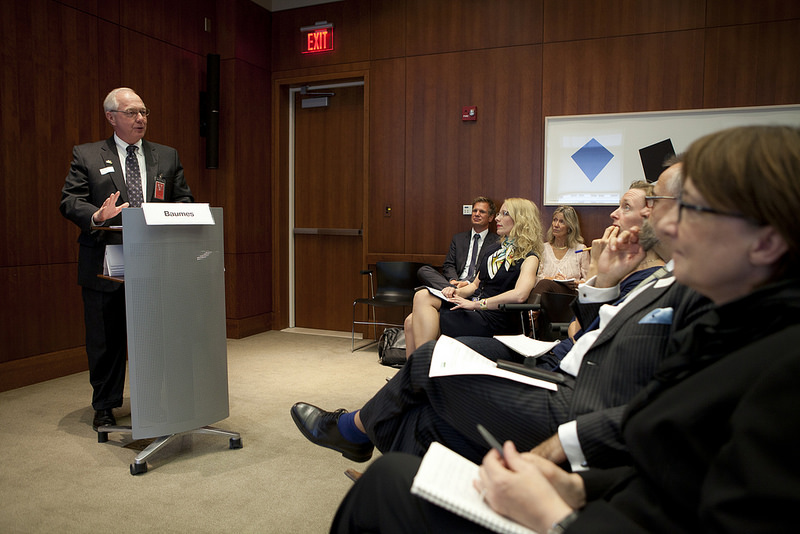 Leading scientists and policy makers working on German and U.S. bioeconomy issues met "face to face" in the U.S. Embassy Berlin on September 22.
Kent Logsdon, Deputy Chief of Mission, welcomed 60 parliamentarians, scientists, government and industry representatives, and journalists to the U.S. embassy on September 22, 2015, to start a dialogue between the U.S. and German bioeconomy. Peter Bleser, Parliamentary State Secretary at the Federal Ministry of Food and Agriculture, stated that both countries need to realize the opportunities and the success of bioeconomy will depend on the dialogue with society.
Harry Baumes, Director of the Office of Energy Policy and New Uses at the United States Department of Agriculture, explained that bioeconomy will develop innovative solutions like biotechnology and that these innovations need science based regulations.
Both Germany and the U.S. have set ambitious goals and taken the lead with specific national bioeconomy strategies. The dialogue at the U.S. Embassy disclosed that Germany and the U.S., as partners, develop and implement policies that embrace both innovation and sustainability, while taking advantage of agricultural science and biotecnology. The dialogue "Innovation for a Sustainable Future" was hosted by the Embassy of the United States in Berlin in partnership with Bioökonomierat.
September 20: Secretary Kerry in Berlin for talks with FM Steinmeier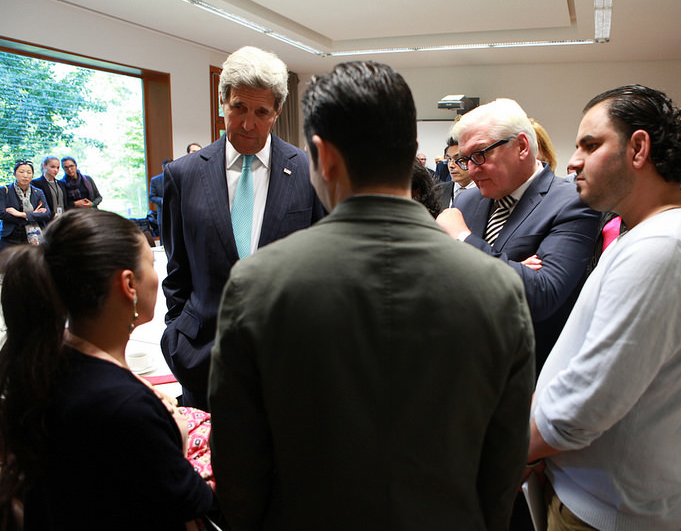 During his visit to Berlin September 20, 2015, Secretary Kerry praised "Germany's remarkable example to the world with respect to the Syrian refugee situation" and multilateral cooperation in achieving the Joint Comprehensive Plan of Action regarding Iran's nuclear program. During a press conference after his meeting with Foreign Minister Frank Walter Steinmeier, Kerry reiterated the United States has provided more than $4.1 billion to the UNHCR to support Syrian refugees. He also announced that in 2016, the United States would increase the overall number of refugees accepted to 85,000 and in 2017 to 100,000, from the current cap of 70,000. When asked about next steps for a political resolution to the crisis in Syria, Kerry said he would meet Russian Foreign Minister Sergey Lavrov and Iranian Foreign Minister Javad Zarif during the upcoming UN General Assembly in New York.
Sep 11: U.S. Embassy Teacher Training Seminar
The new school year is upon us all, and we would like to remind you that "Going Green – Education for Sustainability" is going into its second year and will start again in mid September. Please join us at the following teacher seminar to learn more about the new website, updated materials and sign-up procedures. We will also feature an outstanding speaker at the event, Fran Ulmer from the U.S. Arctic Research Commission:
Going Green 2015 – Sustainable Education and Political Action
Friday, September 11, 2015, 15:00-17:00
Venue: U.S. Embassy, entrance Behrenstr. (back entrance)
KINDLY ARRIVE BY 14:45 FOR CHECK-IN. PLEASE REMEMBER TO BRING A VALID I.D. AND, IF POSSIBLE, LEAVE YOUR ELECTRONIC DEVICES AT HOME.

Register at: IRCBerlin@state.gov by September 4, 2015
Contact: Dr. Martina Kohl, U.S. Embassy; KohlM@state.gov
Program
September 11: Ambassador speaks at German-American Conference
The American Council on Germany and the Atlantik-Bruecke partnered together for the third annual German-American Conference, "Security and Prosperity in a New Era of the Transatlantic Relationship."
September: Fran Ulmer
Fran Ulmer, Chair of the U.S. Arctic Research Commission, outlined the United States' priorities in the Arctic at this high-level event at Übersee Club Hamburg last Thursday.
Frankfurt's FB post (Senckenberg)
September 02 – 06: Favourites Film Festival Berlin showing "Havana Curveball"
The Favourites Film Festival is an audience festival, meaning that the films have previously inspired film festival audiences worldwide. Simply put, the festival shows films awarded by an audience, selected for the audience.
There are no restrictions concerning genre or running time: fiction films, documentaries, animated films, shorts or features are all eligible. The festival organizers want to show films from as many countries as possible and especially focus on films from regions rarely to be seen on German screens. In finding these films, they collaborate with film festivals worldwide.

This year, the U.S. Embassy in Berlin supported the US documentary "Havana Curveball", the story about Mica, a young teen at 13 who is studying for his Bar Mitzvah, the Jewish coming of age ritual. He takes to heart his Rabbi's requirement to help "heal the world." Imagining himself a savior of sorts, he launches a grand plan to send baseballs to less fortunate kids in Latin America. Narrowing his focus, he lights on Cuba, a country with a mysterious pull. He knows only that Cubans lack resources and love baseball like he does. He also knows that Cuba gave his grandpa refuge during the Holocaust. As "Havana Curveball" tracks his growth from high-pitched boy to broad-shouldered young man, the audience has an unusual opportunity: to witness in real time the coming of age project to understand one's family history while navigating the gap between youthful ideals and the complex, messy reality of the adult world. This coming-of-age documentary combines baseball, a story of growth, and social justice education. As Mica begins to see the barriers to doing good, he never falters. His journey takes him and his parents all the way to Cuba, where the cost of the embargo becomes apparent. He realizes that while doing something good is not always easy or simple, it is always worthwhile.
The documentary touches on several important topics like growing up, social engagement, Jewish religion, the Holocaust, and globalization. Marcia Jarmel and Ken Schneider are not only the directors of the film and award-winning documentary film producers, but also the parents of the main actor, young Mica.
Friday, September 4, 2015
11:00 AM – Filmrauschpalast, Lehrter Str. 35, 10557 Berlin
Special Screening for School Classes - in attendance of the film team
12 years and above