Archive of Selected Past Events
October 8-9: Assistant Secretary Nuland visited Berlin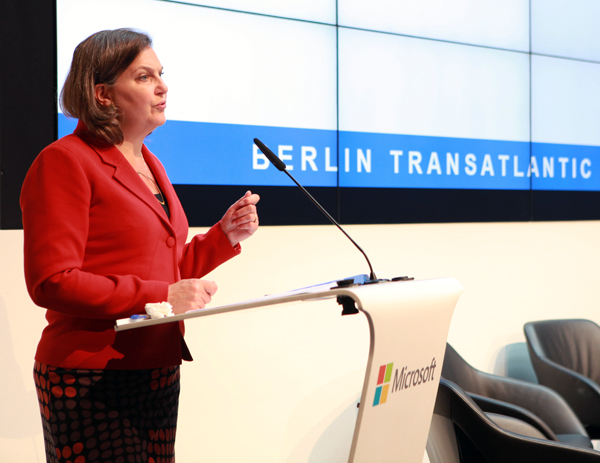 Victoria Nuland, the Assistant Secretary of State for Europe and Eurasian Affairs, visited Berlin on October 8-9. During her visit, Nuland met with German government counterparts and met for consultations with the German-American Parliamentary Group of the Bundestag. She took part in an in-depth discussion with a group of young leaders on the transatlantic relationship. The Assistant Secretary also gave the opening speech at the Aspen Conference where participants there were marking Aspen's 40th anniversary.
October 6: California Walnuts Surprise the Audience
In the unique ambiance of the U.S. Embassy's Quadriga Room, Javier de las Muelas presented the new California Walnuts Cocktail Collection on Monday. The prominent cocktail master and his Dry Martini team transformed crunchy walnuts into eight liquid essences. This resulted in an intriguing collection of cocktails featuring the unmistakable flavor of California walnuts. Ambassador John B. Emerson, as well as representatives from German spirits industry, importers, top bartenders and press, were the first to experience "liquid walnuts" from California.
September 22: Josuha Cohen at the English Theatre Berlin
Joshua Cohen, a visiting fellow at the American Academy this past September, read from his latest book Four Messages at the English Theatre Berlin as part of the U.S. Embassy Literature Series. Cohen's book, a collection of short stories, raises issues such as internet privacy and how younger generations often underestimate the potentially adverse effects of their online presence. Well known talk show host and journalist Jörg Thadeusz moderated the reading and was the perfect counterpart to Joshua Cohen.
September 16: Ambassador Robert E. Hunter on NATO and Ukraine
Former U.S. Ambassador to NATO (1993-98) Robert E. Hunter addressed German journalists at the U.S. Embassy, Berlin. Ambassador Hunter, who is a Senior Fellow at the Center for Transatlantic Relations, Johns Hopkins University (SAIS) in Washington, D.C., firmly declared Germany to be our "central partner" in transatlantic relations. He explained Germany's importance in addressing a range of common challenges, including ISIL, Russia and Ukraine, countering extremism in the Middle East and closer NATO-EU integration. He outlined that the NATO Summit in Wales sent a clear signal that the U.S. is still present in Europe and will honor its Article V commitment. He also explained how President Obama clarified the foreign policy "pivot to Asia" as a basketball metaphor for the U.S. planting itself firmly in Europe with the pivot foot, while turning to engage partners in the East from a solid foundation. Ambassador Hunter said Germany is now our "pivot" as the biggest economy in Europe, located furthest to the East, and having the greatest economic ties to the Eastern European states. He argued that Germany and the U.S. should be at the center of addressing the security challenges of our time. Ambassador Hunter said he has long urged much closer cooperation between NATO and the EU. He also emphasized that NATO should address security overall, including economic development, and not just military cooperation.
September 12-14: Memorial Events MLK in Berlin
Ambassador John B. Emerson participated in a number of events commemorating the 50th anniversary of the visit of the legendary American civil rights activist Dr. Martin Luther King, Jr. to both sides of the then-divided city of Berlin in 1964. On September 13, Ambassador Emerson delivered remarks at a commemorative event at the Berlin Town Hall, at the invitation of Berlin Mayor and Senator of the Interior and Sports, Frank Henkel. On September 14, Ambassador Emerson attended a public service at the Marienkirche together with President Gauck, Bishop Dröge, Mayor Wowereit and other invited dignitaries, where he recited a verse from the Bible. The Marienkirche was one of the two churches at which Dr. Martin Luther King, Jr. held a sermon during his visit in 1964.
The U.S. Embassy Berlin also supported a youth event commemorating the historic visit of Dr. King to Berlin at the Gedenkstätte Berliner Mauer on September 12. Dr. Charles Steele, Jr. President Emeritius and CEO of the Southern Christian Leadership Conference (SCLC), a civil rights organization founded by Dr. King, and students from the Ernst-Reuter-Oberschule and the Rosa-Luxemburg-Schule came together for a panel discussion on the legacy of Dr. King and what it means for today's society. The two schools have been working together for the past year in developing the "King Code," a multi-faceted project tracing the steps of Dr. Martin Luther King, Jr.'s visit to Berlin. Students from the John-F.-Kennedy School performed several songs inspired by the civil rights movement in the U.S. in the 1960s.
September 12: A Taste of California
Ambassador John B. Emerson and Mrs. Kimberly M. Emerson hosted an evening of California cuisine and wine together with about 200 guests at their residence in Dahlem. The event featured Michelin star Chef Steve Litke of Farmhouse Inn restaurant in Sonoma County, along with live music by the Pearls of Berlin. This event offered a great opportunity to taste a flavorful variety of Californian and other American cuisine. The extensive menu offered dishes prepared with high quality U.S. ingredients like Californian walnuts, raisins, cranberries and prunes, Alaskan seafood, and various preparations U.S. meat. A selection of California's best wines were presented throughout the evening.
September 5: Going Green kick-off event
The U.S. Embassy is partnering once again with Leuphana University Lüneburg, LIFE e.V./eXplorarium Berlin, and the Friedrich-Ebert-Stiftung on a new and innovative project: Going Green – Education for Sustainability.
August 21: Ambassador Emerson meets Child Survivors of the Holocaust and Descendants
On August 21, Ambassador Emerson met a group of Executive Board members of the World Federation of Jewish Child Survivors of the Holocaust and Descendants. The Ambassador had an opportunity to hear stories first-hand from survivors about being pursued and persecuted as children, making lives for themselves after World War II, and how these experiences affected them and their families. The Ambassador also discussed with the group Mission Germany's longstanding consultations with German officials on justice for victims of human rights atrocities, not only during the Nazi era, but also since then in other parts of the world.
For the first time, the World Federation is hosting its conference of child survivors of the Holocaust and their families in Germany. Organizers expect over 350 survivors and their families from countries around the world, including the United States, to gather in Berlin and reaffirm their bonds as a community and discuss topics such as coming to terms with the past, telling their stories, and looking at the future of Holocaust education and commemoration. The World Federation was created in the 1980s for child survivors and their families to discuss shared experiences in light of the added stigma and special issues and needs of child survivors – those who fled, were hidden, and usually grew up with adult family members. The World Federation has since united hundreds of child survivors, providing them with opportunities to connect with others who can understand the suffering of their shared past.
Transatlantic Trade: Business Opportunities And Job Creation
Deputy Assistant USTR Bryant Trick visits Stuttgart
Deputy Assistant USTR Bryant Trick visited Stuttgart on July 21 to meet with representatives of important businesses and Baden-Wurttemberg's state government to discuss the benefits of TTIP, offer an update on negotiations, and respond to questions about the agreement. Bryant Trick's focus in the TTIP negotiations are sectoral discussions including automotive and general regulatory issues. He met with representatives of Daimler, Bosch, the IHK, and Minister for the Bundesrat, Europe, and International Affairs Peter Friedrich. After the meetings he said: "It's clear that TTIP can unlock important business opportunities that will drive growth and job creation throughout Europe. Increasing regulatory transparency and reducing non-tariff trade barriers will build on our strong relationship while at the same time maintaining high health, environment and safety standards expected on both side of the Atlantic. The open exchange with Stuttgart's automotive industry's global leaders and small- and medium-sized automotive suppliers and of the Baden-Wurttemberg state administration will help us deliver a package that returns real value."
Deputy Assistant USTR for Labor Affairs visited Frankfurt
Deputy Assistant USTR for Labor Affairs Carlos Romero visited Frankfurt on July 18 to meet with representatives of important labor unions and businesses in Frankfurt and representatives of the Hessen state government in Wiesbaden to learn more about their concerns regarding the T-TIP negotiations that are currently taking place. Carlos Romero met with representatives of IG Metall, IG Bau, and the Minister of the State Chancellery Axel Wintermeyer. He said after the meetings: "I greatly appreciate the open exchange of ideas and hearing the concerns and hopes of German labor unions and the Hessen state administration. From our discussions, it's clear that TTIP is creating important opportunities to deepen transatlantic collaboration on labor rights issues toward the common goal of improving working conditions and standards in the context of broadening our trade relationship."
Carlos Romero (Labor) – Berlin and Frankfurt, July 17-18
Bryant Trick (Sectors – engineering, auto, etc.) – Stuttgart and Berlin, July 21-22
August 6: Berlin U.S. Military Veterans Association in Berlin
The Berlin U.S. Military Veterans Association (BUSMVA) organized a week long reunion visit to Berlin. One important part of the week is the visit to the Allied Museum in Dahlem.
BUSMVA was formed in 1998 and since met every year. Because traveling is not easy for many of the veterans and, of course costly, they only meet every 4th year in Berlin. Four years ago there were some several hundred present, today 180. Still it's an impressive collection of people and from talking to them you get an immediate impression of the importance that serving their country in Berlin has had in their lives and how they love to come back. As one of them described, "it was the high point of my life".

Several veterans bring family members with them and all go through the museum and the Tempelhof airport exhibit and explain to their children and grandchildren exactly what they experienced 50 or 60 years ago.

As part of the tradition of the reunion the names of the deceased members are read out at the official gathering, then a prayer is said for all and then those present for the first time come forward and salute the wreath.
July 8: Templehof Exhibit opening at Allied Museum
Ambassador Emerson gave remarks at the opening of the special exhibit:
"Tempelhof Central Airport, The American Story". Also present was German Culture Minister Monika Grütters.
July 4: United States Celebrates Its 238th Birthday
On July 4, the U.S. Embassy held its traditional Independence Day reception at Tempelhof Airport in Berlin. The Ambassador of the United States of America, John B. Emerson and Kimberly Marteau Emerson welcomed 2,500 invited guests to enjoy an evening with musical entertainment by the American singer Ingrid Arthur and band, food and beverages, as well as fireworks on Tempelhofer Feld for the first time.