U.S. Citizen Services Blog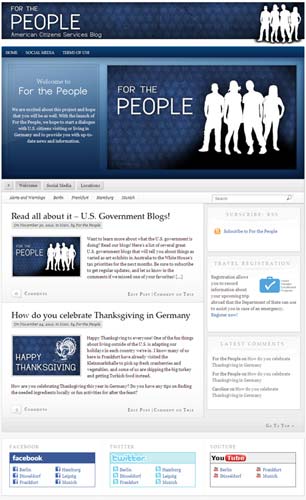 We'd like to notify you of an important change regarding our American Citizen Services Blog, For the People. In an effort to make our site more user-friendly and to provide you with some pretty cool added features, we've moved the blog to a new platform. We think the redesign is a big improvement and hope you will too!

This move requires a small bit of action on your part. If you were already subscribed to our RSS feed, you'll have to re-subscribe to our new site through this RSS feed link to continue to receive updates. First time subscribers, this is also a good opportunity to sign up, if you haven't already. Also be sure to bookmark our new blog page at: http://blogs.usembassy.gov/germany-forthepeople/ to visit us at your leisure. Visitors to our original address will automatically be redirected to the new and improved site.

Since its launch in October, For the People has brought you up-to-date news and information about the issues affecting you, Americans citizens residing in Germany. We hope you'll continue to follow us by re-subscribing to the new site and keep the dialogue flowing with your comments and questions.
This site will automatically redirect to http://blogs.usembassy.gov/germany-forthepeople/ in 15 seconds.